In 1924, Alice Eakle Marks' father, Paul V. Eakle, began operating an emergency air field in northern Illinois for the U.S. Postal service as part of the first transcontinental air mail route.

Then a small child, Alice often helped her father turn on the individual battery-powered boundary lights illuminating the perimeter of McGirr Field (a grass air strip) at night.

This was a chapter in an experiment started in 1918 to prove that air transportation was a viable means of sending mail coast to coast. Planes flew between New York and San Francisco 24 hours a day "pony express style," each plane covering a section. Emergency air fields were placed every 25 miles.

Marks' father was caretaker of McGirr Field, the first stop west of Chicago in the night section -- Chicago, Ill. to Omaha, Neb., -- the flat plain states. This required him to be on duty from 6 p.m. to 6 a.m. daily to light the field and be ready for any emergency landing, the only time air mail planes landed at his field.

There were many of these landings, thanks to bad weather and mechanical problems. A keen observer in love with flying, little red-haired Alice made sure she met many of these pilots. When a plane was forced down, Eakle met the pilot with pot of coffee and buckwheat flapjacks cooked on the potbelly stove. If pilots had an emergency, they tried to make it to McGirr Field, even if another was closer, because they knew they would be well cared for. Sometimes, when planes didn't make it to the air strip, Eakle went out looking for the pilots -- and the wreckage.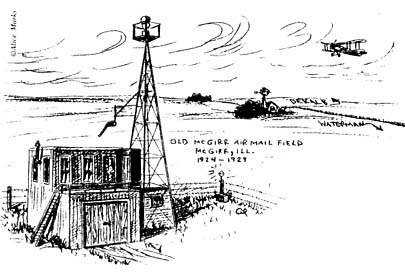 Paul Eakle operated McGirr Field "a grass strip and a small wooden shelter he built with his own money" until 1929 when he opened a new commercial airport several miles away at Waterman. That airport soon became the emergency landing field for air mail planes. It was also a U.S. Weather Bureau reporting station that Eakle, his wife, and later Alice operated, calling in hourly reports 24 hours a day.
Private Enterprise Takes Over
Government flights were turned over to contract air transport companies. One of those, "Boeing Air Transport," operated the Chicago to San Francisco section. Young Alice Eakle was romanced by the sounds and sights of these Boeing aircraft: the 40-B, 80-A and 247. The pilots who were friends of her father and who ate her mother's chicken dinners went on to make more aviation history: E. Ham Lee, Dave Benke, Elrey B. Jeppeson, and a little known pilot, Ira Biffle, who taught a young man named Charles Lindbergh to fly.
In the late 1920's, contracts for air mail provided the cash flow to support the development of future aviation giants such as Boeing and United Airlines.
As a result of the air mail's success, commercial airlines replaced the government mail routes.
The Illinois artist/historian's mission is to establish lighted markers at the original landing strips along the transcontinental air mail route to preserve a milestone in aviation history.
Historical Significance
The pilots of the early 1900's who flew small, primitive aircraft through darkness and all sorts of weather to deliver mail were as important in U.S. history as the famed Pony Express riders of the 19th century. Yet little has been done to preserve the colorful history of the air mail pilots.
Had it not been for the bravery of these early pilots and the ingenuity of the support people on the ground, aviation would not be where it is today.
The early air mail pilots--some flying for the U.S. Army and the U.S. Postal Service--risked their lives daily to prove that the mail could be quickly transported across the entire continent by airplanes flying day and night, year-round.
For pilots in icy open-cockpit airplanes without radios or sophisticated navigation equipment, the flashing beacons and boundary lights of the emergency Air Mail Trail fields provided a welcome sight. A cup of coffee, a hot meal and the warm encouragement of the airport staff gave them the strength to continue. When the weather was too severe to fly, the mail would be placed on the next available train and transported to the next available site for transfer back to an airplane.